1.Specifications:
1. Best sale insulation nails material:PE/PP
2. Best sale insulation nails length:80mm/100mm
3. Best sale insulation nails head diameter:60mm
2.Applications:
For fastening of all insulation materials.
3.Features:
1.Best sale now and very popular with customers

2.Denser insulation materials
3.Rough cast head provides a key for render
4.With high efficiency, low cost, anti-aging, anti-thermal shock, anti-corrosion, cold and heat
5. High pressure, good tensile properties
6.Undeformed, moisture, slow vibration, noise absorption and sound insulation effection
4: Advantage
1.Plastic nail reduces cold bridging compared with metal fixings
2.Quick and easy to install
3.Up to 5 times quicker than conventional methods
4.Time and cost savings for you
5.High quality and reasonable price
Product details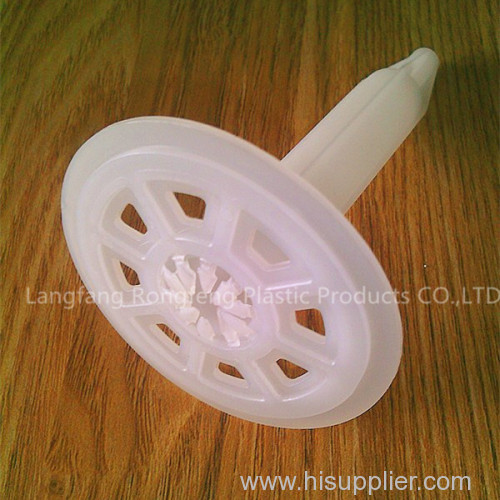 Started in customer demand, Finally customer satisfaction
A. Train services:attentive service will be followed before,in and after buessiness,to give you the most detailed answer.
B. Deliver quickly:our professional team will deliver goods as soon as possible.